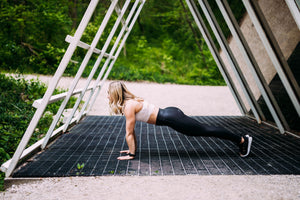 I am you.  I get you.  I am a busy full time working mom of  three boys.  I don't have a ton of time to spend hours each day working out.  I was craving a program with workouts that take 15-40 minutes, with an extra focus on the booty and pelvic floor, and so I created just that.
Find Your Fit: 12 Week Workout Program 
Each week consists of the following: Lower body (quad focus), Upper body, Glutes & Hamstrings, Abs, HIIT
Each exercise links to You Tube where I demonstrate how to perform the move
Resistance workouts take between 30-40 minutes.  HIIT and Abs take 15-20.
When you purchase the guide you have the option to join a FREE Facebook Group.  I provide feedback, motivation, group support,  encouragement and modifications if needed.
When I created this guide I had my booty in mind, hence the two lower body days.  I incorporated lots of exercises to help me accomplish my pull-up goal, and I sprinkled in a lots of my favorite pelvic floor exercises into the Ab workouts.
 What equipment is needed:
Dumbbells 
Barbell
Bench
Mat
Stability Ball
Resistance Bands
Kettlebell (can sub with a dumbbell)
There are a few exercises that are done on a cable machine, but resistance bands can also be used.  Dumbbells and barbells are pretty interchangeable if you don't have both.