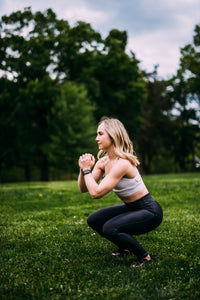 One on one coaching
Are you lacking motivation and need help achieving your health and fitness goals?  I'm here to help!  One on one coaching will give you that little boost you need to smash your goals and feel strong and confident.  Spaces are limited, so sign up now and reserve your spot!

What does this service include?

This service lasts for 6 weeks 
After reviewing your forms I will help you set goals & take action
I offer customized workout programs, or just Accountability Coaching.  It is tailored to fit your needs.
If you're not currently following a fitness program we can discuss what options are available, and design a program that will fit your needs.
I have partnered with an app called Trainerize, which is linked to MyFitness Pal.  I'm able to view your meals and make suggestions if needed.  This option is only for those interested and is not mandatory.
Daily support and encouragement.
If you struggle with finding the time to workout, we can take a deep dive into your daily routine and see where fitness would best fit into your schedule.
Weekly check ins via zoom.  I have found that face to face interaction is best.
Is this service for you?
Do you lack motivation and need encouragement?
Do you struggle with finding a way to incorporate fitness into your life?
Are you tired of starting over and over?
Are you ready to make a lifestyle change?
Are you unsure on how to achieve your goals?
Are you looking for a fitness program that will actually get you the results you want?
Frequently asked questions
Do I have to follow a specific diet?  NO!  If your goal is weight loss, then we can discuss eating in a deficit, and/or take a close look at your eating habits.  I will not require you to eat specific foods or a certain number of calories.
What if I don't have any free time in my schedule to workout?  I'm confident that after reviewing what your daily schedule looks like, we will find 30-45 min for you to better your body.
Lets work together so I can help you be the best version of you!
If you are interested in one on one coaching, please email me not.another.fitmom82@gmail.com and we can find time to chat first.  Pricing depends on whether or not you need a customized workout program.