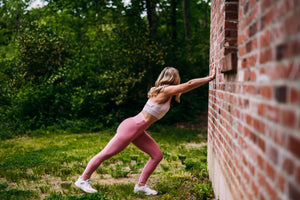 This bundled product gives you BOTH my 12 week Pelvic Floor Strengthening Guide and my signature 12 week workout program: Find Your Fit.
Find Your Fit: 12 Week Workout Program 

Each week consists of the following: Lower body (quad focus), Upper body, Glutes & Hamstrings, Abs, HIIT
Each exercise links to You Tube where I demonstrate how to perform the move
Resistance workouts take between 30-40 minutes.  HIIT and Abs take 15-20.
When you purchase the guide you have the option to join a FREE Facebook Group.  I provide feedback, motivation, group support,  encouragement and modifications if needed.
When I created this guide I had my booty in mind, hence the two lower body days.  I incorporated lots of exercises to help me accomplish my pull-up goal, and I sprinkled in a lots of my favorite pelvic floor exercises into the Ab workouts.
 What equipment is needed:
Dumbbells 
Barbell
Bench
Mat
Stability Ball
Resistance Bands
Kettlebell (can sub with a dumbbell)
There are a few exercises that are done on a cable machine, but resistance bands can also be used.  Dumbbells and barbells are pretty interchangeable if you don't have both.
Pelvic Floor Strengthening Guide:
What does this guide include?
12 weeks of exercises that progressively get more challenging
Complete explanations on how to properly utilize your breath 
Full length videos that clearly demonstrate how to do the exercise and how many reps to do
Is this guide for you?
If you are postpartum and have been cleared to exercise by your physician
If you are tired of avoiding certain activities w/ your family for fear of leakage
If you are looking to strengthen your core & improve mobility
If you experience leakage when running, sneezing, coughing
If you want to tighten your lower abdominals and alleviate low back pain
This guide is NOT intended for women that are currently pregnant, or trying to conceive.  Always consult with your physician before starting a new fitness program.  It is imperative that you have been cleared to exercise by your doctor before using my guide.